Shirley Mae Verrett
1931 - 2010
Shirley Verrett, world famous mezzo-soprano and soprano, was equally at home performing in opera and Broadway musicals and on the concert stage. She was one of the first African-American artists to have a lifelong, widely acclaimed career as a singer, one that spanned the last half of the 20th century.
Donizetti: Maria Stuarda - Gencer, Verrett, Fr. Tagliavini, Ferrin; Molinari-Pradelli. 'Shirley Verrett presents a bit of a puzzle,' he writes. 'Voice, intelligence, musicianship, beauty, stage presence - Verrett had them all, and on any number of occasions it seemed as if she were.
A native of New Orleans, Shirley was born on May 31, 1931, one of six children of Leon Solomon and Elvira Harris Verrett, devout Seventh-day Adventists. Because of racial prejudice in Louisiana, the family moved to California when she was five, and she and her siblings were educated in the church's school system. She briefly attended Oakwood College, now University, in Huntsville, Alabama for a semester in 1949.
Her father was an amateur church choir director and taught her the basics of singing. Verrett's unusual talent stood out even in her childhood, when she sang with a voice mature beyond her years. At age 17 she entered a local talent competition, where she caught the attention of John Charles Thomas, a well-known singer in Southern California and supporter of young singers. He offered to underwrite voice study for her with the famous Lotte Lehman at the Music Academy of the West, but she declined.*
Verrett married James L. Carter on July 22, 1951 and then attended Ventura Junior College, completing an associate degree in real estate in 1951. Although her marriage was not successful, she did not end it legally for some years because of the SDA church's position on divorce at that time. She was known professionally as Shirley Verrett-Carter until 1963.
Though successful in real estate, she reconsidered her career choice and started serious voice study. In 1955 Verrett won in two California competitions sponsored by the Young Musicians Foundation and later that year appeared on Talent Scouts, a national television show hosted by Arthur Godfrey.
Her appearance on that program led to a scholarship at the Juilliard School of Music, where she studied voice under Marion Szèkely-Freschl. While still a student there she sang with the Philadelphia Orchestra under Leopold Stokowski in Falla'sEl amorbrujo and made her operatic debut in 1957. Before she graduated from JSM in 1961, she was giving recitals and concerts and was also singing in European opera, for which she was getting rave reviews. Her parents, who wanted her to pursue a concert career, as Marion Anderson had, were disappointed when she chose to sing in opera.
Shirley Verrett (May 31, 1931 – November 5, 2010) was an American operatic mezzo-soprano who successfully transitioned into soprano roles, i.e. Soprano sfogato.Verrett enjoyed great fame from the late 1960s through the 1990s, particularly well known for singing the works of Verdi and Donizetti.
Nov 05, 2010 I always considered Shirley Verrett to be an icon: a woman of immense talent, beauty, and grace who, for a brief moment, I was blessed to encounter. She sang a concert at my undergraduate alma mater and, as a music student, I was blessed to work back stage, offering her such things as chicken soup and tea.
The University of Michigan Women of Color in the Academy Project will present its 9th Annual Shirley Verrett Award to Professor of Music (Voice), Daniel Washington. Professor Washington is being recognized for his exemplary leadership and advocacy on behalf of.
In 1962 her performance as Carmen in the Festival of Two Worlds at Spoleto, Italy, created a sensation and demands for repeat appearances in that role in the world's leading opera houses. Her rich, expressive voice, beauty, and stage presence, coupled with a remarkable portrayal of this tragic figure, delighted audiences. A reprise of the role included appearances at the Bolshoi Theatre in Moscow in 1963, NY City Opera in 1964, La Scala in Italy in 1966, and the Metropolitan Opera in 1968.
In 1973 Verrett made her debut at London's Royal Opera House Covent Garden, eventually returning there to play leading roles in a number of operas. In that year she also made history during the opening night of the Metropolitan Opera's production of Berlioz's Les Troyens when she sang the two leading roles, Cassandra and Dido, because of the illness of the singer scheduled to sing the latter. That feat was critically acclaimed, hailed by the New Yorker as 'a landmark in American opera history.'
A cascade of successes over the ensuing decades in playing some of the most difficult roles in opera firmly established her as one of America's greatest performing artists and a world-famous celebrity in the world of music. She starred in operas at all of the major opera houses in the U.S. and Europe and receive highest accolades from reviewers at The New York Times, Musical America, The Washington Post, The New Yorker, and other publications.
Verrett was a perennial favorite of opera lovers in Paris and Milan and performed often at The Paris Opera and La Scala. Over a period of 15 years, she performed in 126 Metropolitan Opera productions, singing leading roles in Tosca, II Travatore, Aida, Otello, Fidelio, and others.
An accomplished concert artist and recitalist as well, Verrett sang under a who's who of world-famous conductors. Her recital repertoire was expansive and included art songs from Schubert to Ned Rorem as well as Spirituals. For many years she toured annually in the U.S. and gave recitals in the most prestigious concert halls of the world, including Carnegie Hall. She sang many times in the 'Live from Lincoln Center' series.
Verrett was also featured at SDA colleges and universities, singing at Andrews University in 1974, and Walla Walla College, now University, in 1976. When Oakwood College, now University, celebrated its centennial in 1996, she gave the opening concert at the beginning of its festivities.
In 1994, Verrett played a leading role in a Tony Award-winning production of Rogers and Hammerstein's Carousel, a performance that earned her a nomination for the Outer Circle Critics Award. At the time of her performance on Broadway, she met Desmond TuTu who thanked her for not performing in apartheid South Africa, despite some lucrative offers to do so. The pivotal role in Carousal, 'You'll Never Walk Alone,' influenced the title of her 2003 memoir, I Never Walked Alone. Five years later, she sang in a revival of one of the first all-black Broadway musicals, In Dahomey.
She participated in many humanitarian activities throughout her career, giving numerous benefit recitals. In 1989 she joined with Placido Domingo to present a major benefit concert for UNESCO. Six years later, she was one of the 'First Ladies of Song' to participate in a program to raise money for an Eleanor Roosevelt statue.
Verrett joined the music faculty at the University of Michigan as a professor in voice in 1996 and was honored with the appointment as the James Earl Jones Distinguished Professor in 1999. She also received numerous other awards, among them the Marian Anderson Award, A listing by Essence Magazine as an African American Woman of Distinction, a special achievement from NAACP in 1980, and The Walter Naumburg International Vocal Competition Award, and the Sullivan Award.
She was twice decorated by the French Government, in 1970 with the Chevalier des Arts et des Lettres, and in 1984 with its prestigious Commandeur des Arts and des Lettres. Holy Cross College in Worcester, Massachusetts, Northeastern University in Boston, and the Juilliard School of Music awarded her honorary doctorates, the degree from JSM being awarded in 2002.
Verret was living in Ann Arbor, Michigan, at the time of her death on November 5, 2010, at age 79. She was survived by her husband, Louis; daughter Francesca; and two grandchildren.
An ongoing annual Shirley Verrett Award that recognizes 'a faculty member whose performance, scholarship, or service supports the success of female students or faculty in the arts who come from diverse cultural and racial backgrounds' was established in 2011 by the University of Michigan.
ds/2019
*There is some question about whether she declined. Baker's Dictionary of Opera states that she studied voice under both John Charles Thomas and Lotte Lehmann.
Sources: Baker's Dictionary of Opera, Laura Kuhn, 2000, 849; Jack Salzman, David Lionel Smith, Cornel West, Encyclopedia of African-American Culture and History, Volume 1, 175; University of Michigan, School of Music Faculty and Staff Directory, Verrett biography; Ira Rosenblum, Verrett biography written at the time of the awarding of an Honorary Doctorate to her by the Juilliard School of Music in 2002; Anthony Tommasini, 'Shirley Verret, Opera singer of Power and Grace, is Dead at 79,' The New York Times, 6 November 2010; 'Operatic star Shirley Verrett gives recital in College Place,' [Walla Walla College (University)], Walla Walla Union-Bulletin, 25 April 1976; biography in Wikipedia.
Shirley Verrett was born in 1931 to a religious family—one that frowned on a stage career. Nevertheless, she made her way—through teachers, through auditions, and through a bad first marriage—until she earned herself a place at the Juilliard School.
In New York, she attended performances at the Metropolitan. It was there, from the standing room area, that she heard Maria Callas as Norma. This performance, Verrett said later, empowered her to pursue a career in opera.
Shirley Verrett Biography
An operatic career is never easy to pursue, especially not for an African American woman in the 1950s. Shirley Verrett persevered, however, and within 10 years she was a star. Her international roles included Eboli, Carmen, Amneris, Azucena and Dalila.
Inevitably, there were bumps along the way. An early career engagement with Leopold Stokowski and the Houston Symphony was canceled when the orchestra refused to hire a black soloist. Not even Stokowski could get past late 1950s racism, but he made it up to Verrett as best he could. She made her first recordings with him (with the Philadelphia Orchestra, thank you very much): Manuel de Falla's El amor brujo. ("Hot" is the best word to describe this performance, now on CD from Sony Classical.)
Verrett made history, and maybe some trouble for herself, in 1976. Opera loving Bostonians always look forward to late April—the third Monday to be exact. Patriot's Day commemorates the beginning of the American Revolution in nearby Lexington. It is also the day the Boston Marathon is run.
That year, the marathon's finish line was the front door of the John B. Hynes Civic Auditorium, and on that night, in that venue, the Metropolitan Opera began its annual spring tour with a weeklong visit to Massachusetts. The 1976 opening was Norma, an opera not performed in New York that season. Norma, the title role, would be sung by mezzo-soprano Shirley Verrett!
Back in 1976, Verrett was the world's most glamorous Eboli. She was also an intense and heartbreaking Azucena. She had sung Adalgisa at the Met with Montserrat Caballe and recorded it with Beverly Sills. Her other recorded roles included Gluck's Orfeo and Ulrica in Verdi's Un Ballo in Maschera.
Verrett had recently wowed 'em in Milan as Verdi's Lady Macbeth. Mezzo- sopranos sometimes sing Lady Macbeth. Irene Dalis and Fiorenza Cossotto both gave memorable performances of the role. Mezzo-sopranos, however, do not sing Norma. Boston had heard two productions of Norma in the early '70s, with Joan Sutherland on the Met tour and with Beverly Sills (her first, with Sarah Caldwell)—but what was Verrett doing there?
I heard Verrett's Norma. A more glamorous, imperious and vulnerable performance is hard to imagine. The voice? She capped the Act I trio with a searing high D that had staid ol' Boston screaming for more. A new Norma, a great one, had arrived. Mezzo, soprano or baritone, it didn't matter. Verrett had the juice for this role.
The years passed. Verrett added Aida and Desdemona to her repertoire. She sang Norma in San Francisco, New York and London. She sang Tosca at the Met with Pavarotti. She kept Dalila, Azucena and Eboli in her repertoire. She dropped Carmen. The "Alleluia" from Mozart's Exultate, Jubilate was a favorite concert encore. So was Rossini's "Una voce poco fa."
Who was this woman and what was this voice?
Shirley Verrett tells the story of her extraordinary career in a new memoir, I Never Walked Alone.
Prima donna memoirs can be an endless repetition of "…and then I sang…" "and then I went …." yadda yadda yadda. Verrett's book, written with Christopher Brooks, is candid, moving and funny.
Verrett claims all her own mistakes: Restricting her career, walking away from lucrative recording contracts, attempting roles (such as Leonore in Fidelio) that might have been best left alone. She credits God, her parents, her husband and daughter, and her own will with her many triumphs.
Career threatening illnesses took years to properly diagnose and treat, and her work suffered. Her search from doctor to doctor to specialist to treat the allergies and infections plaguing her make harrowing reading. She fought these illnesses just as her career was cresting. The fight, and the illnesses, cost her.
Verrett and mezzo-soprano Grace Bumbry didn't need to be warm and fuzzy with each other—and by all accounts they weren't—to give a memorable series of joint concerts, including one in tribute to Marian Anderson. Verrett's late career roles included Santuzza, filmed for Italian television.
Verrett made her operatic farewell as Leonora de Guzman in Donizetti's La Favorita in 1992, an opera she had performed with Pavarotti and Milnes at the Met in the '70s. But Verrett wasn't finished. She returned to Lincoln Center in 1993 for a yearlong run as Nettie Fowler in Carousel.
Want more? The indomitable diva followed that up by starring off-Broadway in a revival of In Dahomey.
In 2003, Shirley Verrett no longer sings in public—but I suspect her performing life has another chapter or two to go.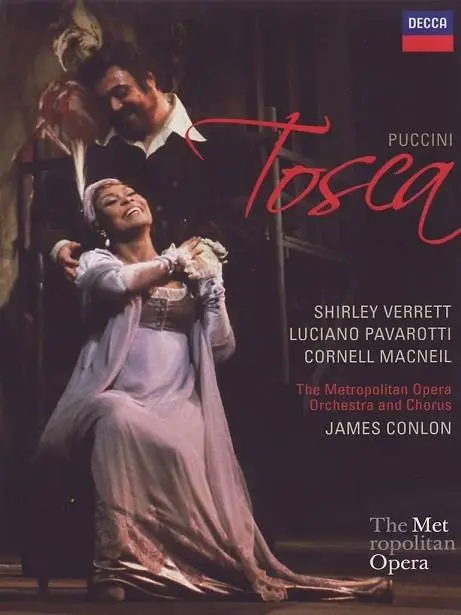 I saw Verrett in some of her most powerful roles. She always gave her audiences more than their money's worth. Up close, in rehearsals as an observer and occasional go-for, I found her intimidating. My mistake.
Twenty-seven years after hearing that Norma in Boston, this writer is older, fatter and grayer. Shirley Verrett is glamorous, motherly ("I brought in this pineapple juice for us. Come on, drink it, it's good for you") and sexy. We met on a late summer morning at her studio at the University of Michigan at Ann Arbor, where she's been a professor of music since 1994.
What does it mean for someone to sit down and begin to tell the story of his or her life? What did it take for you to do that?
It took somebody finding me! Christopher Brooks was about the fifth person who had asked to do the story of my life. Christopher persuaded me. He said there aren't many books on African Americans in classical singing. We need another book on Leontyne Price. There hasn't been one on George Shirley. Simon Estes did write his autobiography, a wonderful book. Yes, of course there's a lot about Marian Anderson.
When Christopher said it in those terms I decided: Definitely, I will put something down.
It's very disturbing when young African Americans today—when you speak about Marian Anderson—and they ask, "Who is that?" That's one big reason I did the book: To keep them knowing we are here. In California the book has become a must-read in some of the schools. I think it is so important to start these youngsters at the earliest age possible.
Today, for kids hip hop and rap rule. How do we get them to listen to something else?
There are many roads that lead to Rome. I'm not going to say they shouldn't ever listen to hip hop! I love jazz. At the same age they are listening to hip hop; you need to expose them to everything.
Recently I visited A Place Called Home in Los Angeles. That is a fantastic place, where the kids are exposed to everything. They have them from 7 years old and up. After my bit there I became the opera lady! The children continue to listen to some of my CDs.
They don't have to go into classical music, but they should know about it. Know it exists. They can make a choice later in life. Don't leave hip hop out, but give them something else. The teacher played my recordings and I was told the kids kept saying, "what is that?" That was the Opera Lady who visited them yesterday!
In a room full of kids, if you hook three or five, that's great. It can grow from there.
But I listen to hip hop! I have to know what the young are listening to. I listen to their slang. Recently I heard "my bad." I had no idea what that meant. Someone came into this studio by accident and said, "Oh my bad!" He meant "my mistake." "My bad!" Immediately I got it. And I said, "Oh here's another one I know now." We never stop learning.
We have to be a little bit "up." I have to keep myself aware of what's now. It keeps me young.
One of my deepest memories of you onstage was as Desdemona. You write in your book you didn't really care for the role. But I remember you singing the "Ave Maria," kneeling with your back to the audience, far, far upstage, and that sound floated out over the hall, and out in to the street. It was a technically perfect moment. I thought to myself, this woman has either abs of steel or a formidable technique or both. How did you make the sounds you made?
I loved going to Boston. It was always the last stop before going to the country house for the summer. It was Sarah Caldwell's idea for me to do Desdemona. I loved taking chances, so Sarah and I fit well. Sarah said most people sing the "Ave Maria" down front, but we should try something different.
Getting back to the technique, I used the same technique for everything. Students say, "Professor Verrett, isn't it harder to sing 'piano'? Don't you need more tension?" I tell them: "No! If you use too much tension you'll ruin it."
It's very subtle. You don't punch it. If you want to make a "piano," you don't keep expanding the ribs. You don't also say, "Now I'm going to sing a "piano" so its time to collapse all the muscles."
I believe an awful lot in the mind being a part of this huge puzzle. The soft palate, the space, the breath, the tongue. For the "Ave Maria," I may have given a teeny more bit of sound to the voice. Though my back was to the audience and I was far away, I sang it just as I would have had it been staged forward. Jimmy McCracken—he was our Otello and he was a darling man, I adored him and his family—used to tell me, "You never have a look of worry on your face, Shirley. You're just there."
Not every night was perfect. People knew I battled allergies and illness—but I always felt that if I didn't know the technique for attempting the notes perfectly, I shouldn't be there in the first place.
Let's discuss some of your most famous roles. The first one on my list is Princess Eboli.
I loved Princess Eboli very much. It was my second role at the Metropolitan. It was a fun role for me. Here was Verdi writing for two voices, soprano and mezzo.
The "Veil Song," for instance, is a soprano aria. It goes down, yes, but a soprano has to be able to do this. The part doesn't go that low until you get to the garden scene, where she's pounding out those Cs and below. Eboli was a glory role for me. I loved singing the "Veil Song" as much as "O Don Fatale." I loved everything about this opera. People tried to get me to do Elisabetta but I said, "NO! Eboli is more fun!"
And for Elisabetta, it was a joy to hear my colleague and friend Montserrat Caballe in this role. I remember her doing it in Verona in the outdoor arena. To hear that fantastic, silvery voice, it was just beautiful! But Eboli was more Verrett.
You write in your book, this opera really does belong to Eboli
Yes! And remember, with Azucena, Verdi wanted to call Il Trovatore La Zingara—the gypsy.
You had a huge success as Lady Macbeth. This opera became very much identified with you. You recorded it twice, and filmed it. Your first performance of the role was at La Scala, of all places.
Claudio Abbado asked me for this role for three years. The third year I said yes.
This was Callas's big role at La Scala. But my fidelity is to what I see in the music and what I think the composer wants me to do, sitting down at the piano learning the role.
You don't try to copy anyone. I try to get this through to my students. Don't listen to recordings to learn the role. Later you can go back and listen. You learn from NOT having listened. Do what YOU think the composer wanted this music to sound like. Then take it from there. When people copy, I say, "we all make mistakes! Be careful! Don't make my mistakes, make your own."
For Lady Macbeth, I had seen "the Scottish play," but I found the opera dark, a dark character. Lady Macbeth I was unsure of at first. But Abbado insisted I get a score and go over the part. I found it suited my voice. It was the most fortuitous thing I could have done, because opening night at La Scala was a triumph. With Giorgio Strehler's production, Capuccilli as Macbeth and of course Abbado conducting.
Strehler had me up on a platform, about seven feet off the ground. In rehearsal I would walk, then run across it to acclimate myself. I had to do it every day in rehearsal.
Lady Macbeth was a role I never thought I would do, and it came from Claudio Abbado.
I did have disagreements with Strehler about lighting. I'm a black woman and Strehler didn't want too much light on the stage. But my husband, who is an artist, said, "Strehler is right, Shirley. They will see you."
I promised Sarah Caldwell I would do the role with her in Boston after La Scala. I respected her so much. I went over the opera with her. She kept coming back to attitude, all through the role, attitude, and subtext!
It was after you sang Lady Macbeth in Milan that the Italian press called you La Callas Nera, The Black Callas
I was very proud to be where she had been. But I never let it bother me. I couldn't afford that because then I would not have been able to do what I had to do. I wanted to make Verdi proud.
Singers today seem concerned about the Fach system. It seemed you got around that, that you always insisted on singing what you felt suited your voice
Yes. Having said that, it can be very troublesome.
Shirley Verrett Opera
As I explained in my book, about how I sang as a mezzo. My father wanted me to be a contralto because the great Marian Anderson had been a contralto. I believe she was a dramatic soprano with a fabulous natural extension, but the world wasn't ready in her time for an African-American soprano of that caliber. So she had to sing contralto. I think she was a soprano.
My teacher told me, just before I went to New York: You are a soprano.
She insisted I learn to sing piano throughout the range of my voice. She didn't talk much about messa di voce, but I do with my students. You must be able to be able to play with the voice in that way. To me, it is a wonderful way of painting pictures throughout the range. (I've heard doctoral students who can't do a trill yet!)
But mezzo versus soprano? My family was musical. I sang all the parts at home. I filled in wherever I was needed. It made no difference to me. I had a wide range as a child. I had agility from God. That came from God.
My teacher, Anna Fitziu, had me singing the "Alleluia" from Exultate Jubilate, and I realized I could sing fast! I started out therefore as a soprano. I got a break to sing on the Arthur Godfrey show. I was supposed to sing "Dich teure Halle" on TV. But my teacher insisted I sing "Mon Coeur," Dalia's aria. She wanted me to sing something people knew.
So people heard that part of my voice and said mezzo. Anna Fitziu (who was a soprano leggiero) told me it would do me no harm to sing as a mezzo until I could sing piano throughout the range. Later I went to some voice teachers, and oh my goodness, most of them didn't know what they were talking about. Even today, people don't know. Remember, we get voices, we don't make voices. We can correct voices, but God made that voice.
You made quite a leap when you sang the title role in Norma
Norma stands at the top for me. I loved this part very much. When I was learning Adalgisa, and later singing it with Caballe, I thought, "well, Norma sings a lot longer, but I can do this." I know people were thinking, "she's nuts; she's crazy to attempt this."
I have to say they were saying that!
Yes! People thought I was crazy. This is a mezzo singing a soprano role. They didn't know my history. Even after the book is out people still think of me exclusively as a mezzo. But by the end of my career I had done many more soprano roles than mezzo. [Note: these include Aida, Norma, Desdemona, Tosca, Medea, and Iphigene.]
The doctor who first gave me antibiotics for allergies (which I do not thank him for) looked at my cords years ago and asked me: "What are you singing?" I told him: "I'm singing as a mezzo now," but the doctor said those cords are more soprano than mezzo. I had ease going up, and again I had the agility.
Remember, a mezzo has the same kind of quality—the lusciousness, the fullness and the ease on the top—and it's the same kind of sound you want to hear in dramatic soprano roles.
People are very protective of the role of Norma.
I felt that my voice was more Norma than Adalgisa—and I loved singing Adalgisa.
You need contrast between these two voices. You have to know when you hear Norma's voice and you know when you hear Adalgisa's voice, even though they are supposed to blend. It's up to people who run the opera houses to know this, to know voices.
Did people running opera houses know voices in your day?
(Verrett laughs) Sometimes they did, sometimes they didn't.
I think most of the time it was a matter of who they wanted. I have found that people I used to look up to, people who I thought knew a lot about the voice, knew nothing. It was a lot of "he said/she said"—but people weren't educating themselves on what they were listening to. There was too much hearsay in this business.
This is what's happening with portamenti. I believe in portamenti. But you don't groan and slide forever and ever all over the place. Get there! But we do want to hear a little bit of a slur, just a bit of it today.
As I said, you have to keep up with the times without changing what the composer wanted, and it's up to you to figure that out.
The style of singing a melody is a different style than for singing a spiritual. But within the framework you don't want to go too far overboard. No need to make it sound like it came from the 18th century. Be careful of the composer's intent but try to sound up to date. Something like "O mio babbino caro" can be slurred to death!
In 1973 you made history at the Metropolitan by singing two huge roles in one night. Cassandra and Didon in the Met premiere of Berlioz' Les Troyens
I did not want to sing Cassandra. I wanted to sing Didon. But not the way it came about.
Five years earlier I had sung Didon on a broadcast, with the score.
Conductor Georges Pretre had cut a lot. But when we got to the performance all the cuts were opened! Pages of them! So the part was in my head. I can't say [that] by 1973 I still knew the role, though.
The Met had a problem with Christa Ludwig, who was scheduled for Didon. She had been ill and was missing rehearsals. And I had already said in a symposium that my role really was Didon, not Cassandra. …I had agreed because Rafael Kubelik was going to conduct—but people around the Met, and my accompanist Warren Wilson, urged me to learn Didon. Warren said: "You would be very foolish if you don't learn this."
I say in the book [that] during the first part of my career I was pretty good about letting my insides guide me and trusting a very few people close to me with career advice. Remember, as you make decisions, you don't need a lot of different opinions. Kubelik and Warren Wilson insisted I learn Didon.
I finally said to myself, "I'm crazy but I'm going to do this." People thought I moved Ludwig out of the role. So untrue! But finally, as rehearsals progressed, I decided it would not be fair if I did not get the first performance at least, because I had put in a lot of work.
The Met management was very noncommittal, until Verrett walked down the aisle and said to Kubelik, "I am ready to do both roles Maestro, but I cannot do them if I don't get the opening night." Being tired after doing two roles on opening night people will forgive you for. But I had been rehearsing both Cassandra and Didon. If the second Cassandra sounds tired after all the rehearsals, it could be a problem. Didon is a fabulous role. The finale, the "Adieu fiere cite!" is a tremendous scene!
But it was me who had to walk down the aisle at rehearsal, in my Cassandra costume, to ask Kubelik who's singing opening night. I felt I had to protect myself.
The world can be very forgiving, but many times people forget. If I had not done a good job they'd have been saying: "Oh she's lost her voice." I tell my students all the time: "You must learn to protect yourself."
Likewise, if you get talked into something you shouldn't sing, you have no one to blame but yourself. I take the blame for everything I did that was incorrect.
Let's switch gears a bit. Do you think the day will come when the Metropolitan will produce an opera by an African-American composer?
I don't know. It's like asking when we are going to have an African-American president? Or a Jewish president? I think we are closer. There have been wonderful operas by African Americans: Amistad [Anthony Davis] and Vanqui [Leslie Burrs].
I pray we begin to get more African Americans, and people of all color, to get into the large opera houses. This was beginning to happen in my day. But I sense now we're going backwards.
What do you do with young dramatic soprano voices? She can sing Aida and Tosca but all she's given is Pamina and Susanna. What does a big voice do?
She should go back to Mozart. Even Birgit Nilsson did that when she was young.
If you cannot sing smaller, that means you've got some lessons to learn. Stick with Mozart when you are very young, even if you have a large voice. It will give you flexibility, and the foundation you must have to sustain the bigger roles later in your career.
What does the future hold for Verrett?
I started singing at a very early age. Music was my whole life. I still vocalize every day, even though I no longer sing in public.
I'm working on Mozart arias now! "Porgi amor" and "Dove sono." I've always loved the "Song to the Moon" from Rusalka. I like to work on them just for my sake. I recite texts as poetry to see if the words fall into order—but because of the allergies, and because my breath is not as long as it used to be, I've become a different kind of a singer.
I still do exercises, I still work every day—but vicariously I do a lot of work through my students, and glory when they get it!
It is fabulous to see!
Today, I want to work in the theater. I am looking at scripts. I want a juicy cameo, fantastic little pieces. The book is doing quite well, I've been on tour with it all year. But I'm looking forward to acting in straight dramatic parts.
The time will come when you will see a new Verrett—in the theater!
I Never Walked Alone by Shirley Verrett with Christopher Brooks.
Published by John Wiley and Sons
SHIRLEY VERRETT ON RECORD
Note: Shirley's book contains a complete discography. These are some of my favorites. CP
Bellini: Norma. San Francisco Opera, 1978. GALA GL 100.578 (title role)
With Alexandra Milcheva, Nunzio Todisco and Clifford Grant.
Paolo Peloso conducts
Berlioz: Les troyens. Rome, 1969. Pretre, cond. OPERA D'ORO OPD-1376 (Didon) With Marilyn Horne and Nicolai Gedda.
Bizet: Carmen. Covent Garden, Solti cond. OPERA D'ORO (title role)
With Placido Domingo, Kiri Te Kanawa and Jose van Dam
Falla: El amor brujo. Philadelphia Orchestra, Stokowski cond. SONY CLASSICAL
Gluck: Orfeo ed Euridice. RCA 7896-BG (Orfeo)
With Anna Moffo and Judith Raskin. Renato Fasano conducts
Rossini: The Siege of Corinth. EMI CMS7 64335-2
With Beverly Sills. Thomas Schippers conducts
Saint-Saens: Samson et Dalila. OPERA D/ORO ODP-1175 (Dalila)
With Richard Cassilly. Georges Pretre conducts. La Scala, 1970
Verdi: Don Carlo. Giulini cond. EMI CDS7 47701-8 (Eboli)
With Montserrat Caballe, Placido Domingo, Sherrill Milnes and Ruggiero Raimondi
Verdi: Macbeth. La Scala, Abbado cond. DGG 2709-062 (Lady Macbeth)
With Piero Cappucilli and Nicolai Ghiaurov
Shriley Verrett in Opera RCA 09026 61457-02
Great Opera Duets with Montserrat Caballe. RCA 60818-2