Dec 21, 2018 The role of Amahl has launched the careers of many young singers, including Cincinnati's own G. James Sammarco, who understudied for the part in the original 1951 production. The Cincinnati Chamber Orchestra recognizes the importance of support to the next generation of young singers and budding musicians.
The Shadow King (Amahl Farouk) is a fictional supervillain appearing in American comic books published by Marvel Comics. The character is particularly associated with the X-Men family of comics. His nemesis is the X-Men's leader, Professor X, and he also figures into the backstory of the X-Man Storm.

Contact Info:
Tufts University
Department of Anthropology
5 The Green
304 Eaton Hall
Medford, MA 02155
Office: 617.627.4265
(On leave, Spring 2018)
Email
Amahl Farouk was the leader of the underground syndicate located in the 'Thieves' Quarter' of Cairo, Egypt. He was a powerful mutant who also operated as a vessel for the Shadow King. While Charles Xavier was touring Cairo he had his pockets picked by Ororo, a girl 'trained' by Farouk.
Amahl Bishara
Associate Professor, Department Chair
Degrees
Ph.D. in Anthropology, and Certificate in Culture and Media, New York University
Expertise
Media, journalism, the Middle East, expressivity, human rights, knowledge production, democracy, ethnography of place.
Scholarship & Research
My research revolves around expression, space, media, and settler colonialism. I am currently working on two book projects. The first, tentatively entitled 'Permission to Converse: Laws, Bullets, and other Roadblocks to a Palestinian Exchange,' addresses the relationship between Palestinian citizens of Israel and Palestinians in the West Bank, two groups that are positioned slightly differently in relation to Israeli settler-colonialism. Through ethnographies of protest as well as of more everyday forms of expression, I analyze the barriers to these two groups speaking to and with each other. I argues that speech is always an embodied and emplaced act.
My second ongoing project examines Palestinian popular politics in a West Bank refugee camp. It examines how Palestinians in this refugee camp strive to resist three authorities, the Israeli occupation, the Palestinian Authority administration, and the United Nations Relief Works Agency through struggles over land, water, bodies, and expression.
My first book, Back Stories: U.S. News Production and Palestinian Politics (Stanford University Press 2013) is an ethnography of production of US news during the second Palestinian Intifada. It asks what we can learn about journalism and popular political action when we place Palestinian journalists at the center of an inquiry about U.S. journalism.
In addition to academic writing, I also regularly write for such outlets as Jadaliyya, Middle East Report. I have produced the documentary 'Degrees of Incarceration' (2010), an hour-long documentary that explores how, with creativity and love, a Palestinian community responds to the crisis of political imprisonment. Finally, I have been involved with the production of bilingual Arabic and English children's books about refugee lives, including The Boy and the Wall.
Publications
Book
2013 Back Stories: U.S. News Production and Palestinian Politics. Stanford: Stanford University Press.
Journal Articles & Book Chapters
2015 'Driving While Palestinian in Israel and the West Bank: The Politics of Disorientation and the Routes of a Subaltern Knowledge.' American Ethnologist 42(1):33-54.
2015 'From Dust to Concrete: Infrastructural Change, Political Intractability, and the Colonial Road Movie.' American Anthropologist 117(2): 398-401.
Amahle Houston
2012 'Circulating the Stances of Liberation Politics: The Photojournalism of the Anti-Wall Protests.' In Sensible Politics: The Visual Culture of Nongovernmental Activism. Meg McLagan and Yates McKee, eds. New York and Cambridge: Zone Books, MIT Press. Pp. 139-148.
2010 'Weapons, Passports, and News: Palestinian Perceptions of U.S. Power as a Mediator of War.' In Anthropology and Global Counterinsurgency. John Kelly, Sean Mitchell, Beatrice Jauregui, and Jeremy Walton, eds. Chicago: University of Chicago Press. Pp. 125-136.
2010 'Palestinian Christian Networked Activism: Reifying 'Nonviolence' or Divining Justice?' The Review of Middle East Studies43(2):178-188.
2010 'Introduction' to special journal section, 'Culture Concepts in Political Struggle,' co-authored with Jessica Winegar. Review of Middle East Studies43(2):164-167.
2010 'New Media and Political Change in the Occupied Palestinian Territories: Assembling Media Worlds and Cultivating Networks of Care.' The Middle East Journal of Culture and Communication3:63-81.
2009 'Covering the Barrier in Bethlehem: The Production of Sympathy and the Reproduction of Difference.' In The Anthropology of News and Journalism: Global Perspectives. Elizabeth Bird, ed. Bloomington: Indiana University Press. Pp. 54-69.
2008 'Watching U.S. Television from the Palestinian Street: The Media, the State, and Representational Interventions.' Cultural Anthropology 23(3):488-530.
Public Scholarship
2015 'Across Infrastructures of Restriction: Bringing Palestinian Photography from a Refugee Camp to an American University.' Multimedia article for the website of Comparative Studies of South Asia, Africa and the Middle East.
2015 'Wearing Catastrophe on Our Chests.' May 19, Jadaliyya.
2014 'Watching the Occupation at a Close Distance.' Stanford University Press Blog, July 31, 2014.
2014 'Three Updates on Palestinian Political Prisoners.' Middle East Report and Information Project (MERIP) Blog, April 7.
2013 'Everyday Brutality: The Israeli Army Beats and Arrests an Injured Journalist in Bethlehem.' Jadaliyya. July 9, 2013.
2013 'Covering the Christians of the Holy Land.' Middle East Report, No. 267.
2013 'A Camera's View Finder Confronts a Gun Sight.' Jadaliyya. April 16.
2013 'Permission to Caption.' Jadaliyya. February 4.
2012 'Do Photographs Pose an Existential Threat to Israel?' Jadaliyya. December 4.
2012 'Journalists' Lives are On the Line in Gaza and Beyond.' Cognocsenti,WBUR blog. November 30.
2012 'New Texts Out Now: Amahl Bishara, Back Stories: U.S. News Production and Palestinian Politics.' Jadaliyya. December 19.
Documentaries

2010 Degrees of Incarceration. (Documentary, 59 minutes.)

2002 Across Oceans, Among Colleagues. (Documentary, 32 minutes). New York: Films Media Group.
The Story
Full of delight, humor, and tenderness, Amahl and the Night Visitors is a true Christmas story for the whole family. Three traveling kings, following the star to Bethlehem, stop for the night at a humble home of a shepherd boy, Amahl, and his mother. As Amahl entertains the guests, he offers his own simple gift to the Christ child and learns the miracle of true generosity.
Amahl and the Night Visitors first entered the world in 1951 as the debut of Kansas City's very own Hallmark Hall of Fame. We now continue this tradition and are pleased to announce the reentry of this beautiful story of generosity and hope to the screen with a new, high-quality film. This all-new Lyric Opera production of Menotti's classic Christmas opera utilizes newly-created puppets, designed by Kansas City's legendary puppet master, Paul Mesner, brought to life by a team of puppeteers and live voices and filmed live in a magical new setting and orchestral version, created especially for Lyric Opera.
In this year of change, try a new holiday experience with your family!
Recommended for ages 7 and up.
This filmed production is supported by the Francis Family Foundation.
Digital link to performance recording available for viewing beginning December 15. Digital access $40.
In light of Kansas City Mayor Quinton Lucas' recent announcement of new COVID-19 restrictions, we regretfully announce that the live, in-person performances of our all-new production of Amahl and the Night Visitors have been cancelled.
While we are sorry we cannot welcome you to the Michael and Ginger Frost Production Arts Building, we believe this beloved holiday classic film will enchant you with puppets, stunning sets, and glorious music, bringing the joy of the holidays into your home. We encourage all of you to remain diligent in taking care of yourself and your loved ones. We cannot wait to see you all when it is safe to gather again.
Looking for the perfect Holiday gift? Give the gift of Opera!

Please call Ticketing & Patron Services at (816) 471-7344 to purchase a gift certificate or to gift Amahl and the Night Visitors to your friends and family.
This content is available to gift through December 17, 2020 and may only be gifted by calling. Our TPS holiday elves will be happy to assist you!
Parents and Educators
Spend time together exploring the many wonderful themes of Menotti's Amahl and the Night Visitors: kindness; generosity (the act of being giving); empathy (sharing and understanding others' feelings); and the importance of family.
SEND THE VERY BEST: LYRIC TO MAKE HISTORY WITH FRESH VERSION OF HOLIDAY CLASSIC - By Paul Horsley, The Independent
From publication in The Independent
Gian Carlo Menotti's Amahl and the Night Visitors scored one of the biggest successes in television history. This musical milestone, which received its NBC Opera Theatre premiere on Christmas Eve 1951, was the first opera commissioned specifically for live performance on television, and it was a sensation. "It may be said at once that television, operatically speaking, has come of age," wrote Olin Downes in a rare front-page review in The New York Times the next day, adding that Menotti's "tender and exquisite piece" formed a "historic event in the rapidly evolving art of television."
And there was Hallmark Cards, Inc., front and center, which had gone to considerable expense to sponsor the landmark broadcast. Few Kansas Citians realize, in fact, the remarkable role that Hallmark played in the popularization of opera in America during the second half of the 20th century. That all began with Amahl.
In the early 1950s, when television sets were becoming a fixture of households worldwide, Hallmark founder and CEO Joyce Clyde "J.C." Hall was one of a handful of visionaries who saw the medium's potential: not just for "horse operas," he said, but for a wide range of programming.
"It was argued that an opera was hardly the type of show to get much attention on television," Joyce wrote of Amahl in his 1979 memoir, When You Care Enough. "But I felt we could use the show to thank all the people who bought Hallmark cards … and it was a beautiful show. We received thousands of letters, cards and telegrams thanking us for presenting it. The opera was beloved by adults and children alike and acclaimed by critics as a Christmas classic."
Even Joyce was a bit surprised, it seemed, at the continued demand for the piece. "The moving story of the lame boy, Amahl, with Menotti's magnificent music, was so successful we repeated it by popular demand at Easter the next year in spite of its Christmas theme," he wrote. "Then we found ourselves showing it again at Christmas. In 1953 it became the first sponsored network show to appear in color."
Amahl helped establish Hallmark as a force in cultural programming, and it formed a spark for what would later be called the Hallmark Hall of Fame. "The simple truth," Joyce later stated, "is that good television is good business."
This December 3rd through the 6th, the Lyric Opera of Kansas City presents its first performances of Amahl in nearly three decades, in an ingenious "Covid-safe" production using puppets newly created by master designer Paul Mesner and featuring live musicians spaced widely on either side of the elegant new set design by Steven Kemp. The production, which takes place at the Lyric's Michael and Ginger Frost Production Arts Building, presents a strong a cast of locally-based singers and instrumentalists. Around 70 audience members at a time will be seated, on risers, in a safely distanced manner.
Amahl forms part of the Lyric Opera's revamped 2020-2021 season, which includes cancellations of two previously announced Spring productions but also presents innovations such as the New Visions series. "We at the Lyric Opera have created new programming that reimagines what we can do to serve our community," said Deborah Sandler, the Lyric's general director.
There are reasons why Amahl has traditionally been performed around the holidays. "It's an opera about generosity," said Shawna Lucey, who directs the production. "It's a reminder of how much we receive when we are generous. … It's a piece that we humans, we Americans, need right now."
Amahl imagines the three Magi stopping for a rest on their journey to see the baby Jesus. As they display the lavish gifts they plan to deliver to Bethlehem, they witness a reciprocal generosity from Amahl's own community, culminating in an act of enormous good-will from the disabled boy himself.
"It reminds us of the inherent generosity of children," said Shawna, who directed the Lyric's Lucia this spring, "and how much we as adults need to be reminded of how much we, too, were once inherently generous, in the way that Amahl is."
The Lyric has chosen Shawna for this project partly because of her previous experience with puppets (at New York's Bread and Puppet Theater), but also because of her gifts for collaborative direction, which will come in handy when corralling puppeteers and singers simultaneously. During a global pandemic, she said, "puppets might be the perfect way to present this piece, because puppets are able to touch each other when we humans really shouldn't."
The rehearsals will be uniquely styled, too, she added. "I will start with puppets and the puppeteers, and we'll have the singers watch a bit of how the puppets are moving. Then we're going to have the singers sing a bit, so that the puppeteers can hear their voices, and then … we'll add these together."
Despite its brevity, Amahl feels like a complete opera. "It says what it needs to say in a short time," said baritone Daniel Belcher, who performs as King Melchoir. "It's very fully written, in that each of the kings gets his moment. And the Mother's aria, barely three minutes, says what it needs to say and yet still has a wonderful sweep to it. … It's pretty extraordinary that an opera can create a complete dramatic arc in this space of time."
Perhaps with the aim of making Amahl a holiday tradition, the Lyric has commissioned Steven to design a rather extravagant set, with a rough-hewn central hut and a 95-foot-long cyclorama serving as a backdrop. The goal is to make an intimate space in which "the audience can be a part of the action," Steven said, "and to create a little bit of 'surround-sound,' with the musicians and the singers enveloping the whole space.
In creating the feel of a "tryptic," with the hut flanked by singers stage-left and the orchestra stage-right, Steven is evoking the Hieronymus Bosch painting (The Adoration of the Magi) that initially inspired Menotti. "It's as if this early-Renaissance painting has sort of sprung to life," he said.
In an introduction preceding the 1951 broadcast, the composer reminisced on his own childhood in Italy, where the Magi (not Santa Claus) brought gifts. "It's an opera for children because it comes right out of my own childhood. And I want you to realize that it was very difficult to capture my childhood on television because when I was a child, television had very little to do with my upbringing."
The composer recounted how the idea for Amahl had come to him in a flash one day that December, as he strolled through New York's Metropolitan Museum. "I was supposed to finish an opera for NBC," he said, "and I just didn't have an idea in my head. So I was walking one afternoon, rather gloomily, through the Metropolitan Museum, and I chanced to stop in front of this painting by Hieronymus Bosch. And as I was looking at it, I suddenly heard again the weird song of those Three Kings. And I suddenly realized that they had come back to me, and they had brought me a gift. And the opera you'll hear tonight is the gift of these Three Kings."
Opera singers are not normally called upon to sing "from the wings," as it were, much less to be upstaged by puppets. "It's going to be different from anything I've experienced," said Danny, a veteran of the Lyric stage (and of major opera houses around the world) who is also a Kansas City native and teaches at William Jewell College. "It's a wonderful process of discovery."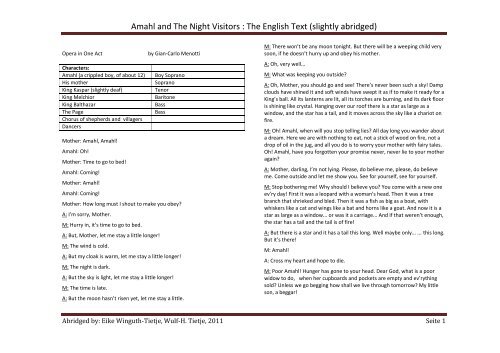 One big impact of the pandemic has been that "it is teaching us not to rely on what I've relied on during the past 20 years," Danny added. "It's breaking every rule, some of which maybe needed to be broken. … We're learning to tell stories in a manner that leaves the proscenium theater. And when we go back to the proscenium theater, we will view it differently. There's a lot we're going to gain from this experience."
—By Paul Horsley
Amahl And The Night Visitors
The cast for Amahl also includes soprano Holly Ladage as Amahl, mezzo-soprano Kelly Morel as The Mother, tenor Michael Wu (King Kaspar), bass Scott Conner (King Balthazar), and Keith Klein (Page). For ticket information, call 816-471-7344 or go to kcopera.org
Cast
Amahl – Holly Ladage
A Kansas City native, soprano Holly Ladage has performed all over the city. Recent performances with Lyric Opera include a Grady Girl in The Shining (cancelled by Covid-19) and the chorus of La bohème. Her awards include 1st place in Musical Theater NATS, 2nd place in Classical NATS, and the 2020 Millicent A. Daugherty Award. Holly is trained in voice, piano, harp, and ukulele, and has performed with Landlocked Opera in the chorus. She is a student of Music/Arts institute in Independence, MO, where she studies voice with Christina Casey Ray.
King Kaspar – Michael Wu
Michael Wu, tenor, recently graduated with his master's from the University of Missouri-Kansas City. He performed Belfiore (La finta giardiniera) and Albert (Albert Herring) with the UMKC Conservatory Opera program. Mr. Wu recently performed with Lyric Opera of Kansas City as a featured soloist for the Soundscapes in the City concert series and sang in the chorus in The Pearl Fishers, The Abduction from the Seraglio, and Lucia di Lammermoor. Other recent engagements include Nemorino (L'elisir d'amore) at The Little Patuxent Opera Institute and singing for the Sonic Blossom performance-art exhibit at the National Portrait Gallery.
King Melchior – Daniel Belcher
GRAMMY® Award-winning baritone Daniel Belcher has performed in many of the world's music capitals, including Paris, London, New York, San Francisco, Berlin, Stuttgart, Amsterdam, Geneva, Madrid, Toronto, Montreal, Tokyo, Seoul and Houston. With a repertoire of more than 80 roles, Belcher has championed roles from the Baroque to those composed expressly for him. His roles with the Lyric Opera of Kansas City include Papageno in The Magic Flute, Sharpless in Madama Butterfly, Father Palmer in Silent Night, Chou En Lai in Nixon in China, Figaro in Il barbiere di Siviglia, Dandini in La Cenerentola and Guglielmo in Così fan tutte.
King Balthazar – Scott Conner
Internationally acclaimed Kansas native Scott Conner has been lauded by major critics and audiences as an extraordinary talent on the rise. Mr. Conner's warm, flexible voice and elegant stature brings proficiency in a wide range of repertoire, including Mozart, Rossini, Handel, Donizetti and Verdi. Originally from Olathe, Kansas, Mr. Conner has in recent years ascended into the international opera scene making significant debuts with the leading opera houses across North America, Europe and the United Kingdom. Recent seasons have included returns to the Metropolitan Opera as the Police Commissioner in Der Rosenkavalier, the Santa Fe Opera as Mustafa in L'Italiana in Algeri and reprisals of the roles of Nerbulone and Tiferne the Gladiator in Cavalli's Egliogabalo with Dutch National Opera in Amsterdam and the Paris National Opera.
The Mother – Kelly Morel
Originally from Los Angeles, California, mezzo-soprano Kelly Morel now makes her home in Kansas City, Missouri, where she completed her Doctorate of Musical Arts Degree in 2017 at the University of Missouri- Kansas City and was a Resident Artist with the Lyric Opera of Kansas City from 2018-2019. Recent roles with Lyric Opera of Kansas City include Kate Pinkerton in Puccini's Madama Butterfly and Alisa in Donizetti's Lucia di Lammermoor. Last summer Ms. Morel joined the Aspen Music Festival & School to perform the roles of Désirée Armfeldt in Sondheim's A Little Night Music and Marcellina in Mozart's Le nozze di Figaro.
A Page: Keith Klein
Keith Klein is an operatic bass-baritone native to Kansas City, Missouri. A graduate of the Eastman School of Music and Florida State University, Keith has a wide musical background including classical, jazz, folk, and pop singing. He began his career by winning the 2014 KC Superstar competition and appearing on Season 10 of America's Got Talent. He studies classical technique under the tutelage of Jan Opalach and David Okerland.
Creative Team
Music/Libretto: Gian Carlo Menotti
Director: Shawna Lucey
Conductor: Piotr Wisniewski
Set Designer: Steven Kemp
Puppet Designer: Paul Mesner
Already purchased access?
If you would like to view the content on your television, you can connect your computer to your television via an HDMI cable or wireless screen sharing. For more information about how to connect your computer or laptop to your TV, please check this article for detailed options.